Want to do some XXX shopping in the Grand Canyon State?
Nested in the southeast corner of the United States, Arizona is the sixth largest state in the county and has a population of more than seven million. And despite its arid desert landscape, the state is pretty urbanized
In this Arizona Adult Stores Guide we give you a comprehensive listing of all the best adult stores in the state, county-by-county. From Tucson to Scottsdale, Flagstaff to Phoenix, if you need sex toys, lingerie, XXX DVDs or novelty items then this is the only guide you need.
Browse our list below to find a store near you…
Best Adult Product Deals for Arizona Customers
As you'll see below, Arizona has a nice selection of adult retail stores – but if you want the biggest selection of adult products at the best possible prices, it pays to shop online.
There are two stores we recommend:
And don't forget to…
Adult Stores in Arizona
Sharing borders with Mexico and a total of five other States (Utah, Colorado, California, Nevada and New Mexico, Arizona is one of the nation's four corner states. The only part of the U.S. where four states meet together, this is a part of the country with a lot of options for XXX shopping.
Made up of just 15 counties, you can find more than 80 adult stores in Arizona.
Residents of, and visitors to, the Grand Canyon State can choose between independent boutiques, traditional adult video stores and both local and national chains including Hustler Hollywood, Lion's Den and Castle Megastore.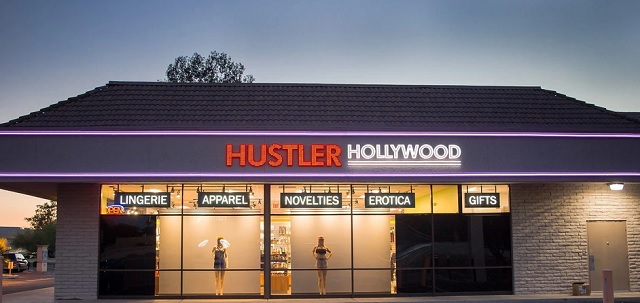 Selling everything from high-tech sex toys and kinky furniture to bedroom basics, novelty items and smokin' hot lingerie.
Which is just as well as locals seem to love a diverse selection of toys!
According to research completed by the online retailer Kink in 2017, the most popular sex toy they sell in Arizona is the prostate massager. Yet, Adam & Eve report that their bestselling adult product in the Copper State is the Fetish Fantasy Couples Sex Machine!
Whatever you're looking for, there's plenty of great sex shops to choose from in Arizona.
Adult Stores in Phoenix, Tucson and Scottsdale
With more than 75% of the population living in two of Arizona's 15 counties, you'll find the majority adult stores in either Maricopa County or Pima County.
The State capital of Phoenix can be found in Maricopa County along with the county's other main metropolitan cities of Glendale, Mesa, Scottsdale and Tempe.
And it's in Phoenix where you will definitely get the best adult shopping in all of Arizona.
With no less than 24 adult stores to choose from, there's not much that you can't buy here in the Valley of the Sun.
From kinky fetish goods and sensual lingerie to the latest sex-tech, you have a choice of megastores, boutiques and good ole' fashioned XXX bookstores.
In total, Maricopa County has more than half of all of Arizona's sex shops but if you are located elsewhere in the state then you do have some more options.
Down in Pima County, Tucson also has a great selection of a dozen adult stores but you're never too far from a XXX retail moment.
But don't forget, if you're close to those border towns then you can also check out what's on offer in one of the many adjoining counties:
Utah
Colorado
Nevada
New Mexico
Please note that if a county has no adult stores, then we have not included that county in our list.
Cochise County
Located in the south-eastern corner of the county with a border to both New Mexico and Mexico, Cochise County has a population of around 125,000.
Unfortunately, there's only a single option for adult shopping here and it is a limited one.
You can find a Spencer's T-ShirtStore in Sierra Vista and they do stock some interesting novelty items along with basic accessories.
We've included them on our list of adult stores because they do sell a great range of adult products online and they offer free instore collection.
For better adult shopping opportunities in person, your closest options can be found in Pima County to the west (see below).
Sierra Vista
Coconino County
Situated in the north of Arizona and bordering Utah, Coconino County has a population of around 145,000.
Although this is the largest county in the state, there aren't too many adult stores here.
The county seat and main urban area is Flagstaff City where you can find a Spencer's T-Shirt and Novelty Store along with the Sweet Nothings Lingerie shop.
For more adult shopping opportunities you can either head west to Mohave County or southwest to Yavapai County (see below).
If you are in the north of Coconino County then you can check out what Utah has to offer.
Flagstaff
Maricopa County
Located in the center of Arizona and with a population of more than 4.4 million people, Maricopa County is the heart of the Grand Canyon State.
The county seat and state capital, Phoenix, is where you can find the majority of Arizona's adult stores including a branch of Hustler Hollywood.
In fact, you can find more than 20 sex shops, couples boutiques and adult stores offering up a dizzying selection of toys, novelties and kinky items.
Outside of the state capital there are several other urban areas which also have XXX stores including Mesa, Tempe, Glendale, Chandler and Scottsdale.
There are few things that you could want to shop for which you can't find here in Maricopa County but if you still need some more options or don't want to hit up the main cities then you could try:
Pinal County (east)
Pima County (south)
Yuma County (west)
Yavapai County (north)
Apache Junction
Gilbert
Chandler
Glendale
Mesa
Phoenix
Scottsdale
Tempe
Tolleson
Mohave County
Mohave County in the northwest of Arizona shares a border with Utah, Nevada and California.
With half a dozen adult stores to serve its population of around 215,000, you can find more 'traditional' adult stores in this part of the state.
Most stock a very decent range of DVDs, sex toys, lingerie and novelty items.
If you need further adult shopping options then the closest alternatives can be found by heading east to Yavapai County (see below).
Or, you could skip over the state lines to check out the adult stores of Nevada; Las Vegas is just 36 miles from the border!
Don't forget to check out the adult stores of California and Utah also has some interesting XXX shopping.
Fort Mohave
Golden Valley
Kingman
Lake Havasu City
Pima County
Located on the southern border with Mexico, Pima County is the second largest area of Arizona and is home to around 1.1 million people.
The largest urban area is Tucson (county seat) which city has a dozen great sex shops ranging from mainstream outlets and chain stores to independent boutiques and locally run adult businesses.
You can also find a great store in Marana which is about 25 miles to the northwest of Tucson City.
If you can't find what you need in these two locations then your nearest alternatives can be found in:
Pinal County (north)
Cochise County (east)
Yuma County (west)
Marana
Tucson
Pinal County
Pinal County sits in the center of Arizona to the east of Phoenix and Maricopa County.
It has a population of around 425,000 making this the third most populous county in the state.
Yet, despite the number of residents in this area, there is only a single adult store.
Fortunately, it's a pretty good one and the Lion's Den outlet in Picacho should be able to serve you up the treats you need.
If you do need more choice then the best options here are to head west to Maricopa County or south to Pima County (see above).
Picacho
Yavapai County
Situated in the center of Arizona, to the north of Phoenix, Yavapai County has a population of around 240,000.
There are just a couple of adult stores to shop in here so if you need further choices your best option is to head south to Maricopa County.
Alternatively you could head west to Mohave County or north to Coconino County (see above).
Peoria
Prescott
Yuma County
Nestled in the far south-western corner of the state and sharing a border with California and Mexico, Yuma County is home to a population of around 205,000.
Locals here have a single adult store which can be found in the county seat of Yuma City.
Fortunately, the Adult XXX Superstore is a pretty decent place to shop for your adult videos, sex toys and bedroom accessories.
If you need a bigger range to choose from then your closest options are to head east to Pima County (see above) or you could hop over the state lines to California.
Yuma
Featured image via Wikimedia.