Want to know more about the sex shops near you?
Use our free adult store locator to find the closest sex shops to your current location.
Worried about shopping for X-rated goods?
Don't be!
Shopping for sex toys has become commonplace.
You can find them across America's malls, pharmacies and supercentres in the form of vibrators, cock rings and stimulators. Yet, despite the rise of internet shopping, specialist adult stores, once only to be found in dingy back alleys, continue to provide an important role when it comes to buying sex toys.
In this guide, we look at the history of the sex shop, its role in providing unique purchasing opportunities and what to (and not) to do when you visit one. We also provide some essential tips when it comes to buying sex toys that you'd be mad to miss out on.
History of Sex Shops: From the Naughty Greeks to Blow Up Dolls for Soldiers
Though the first modern sex store can be dated to 1962 with the opening of a store in Germany by Beate Uhse AG in Flensburg, the history of sex toys can be dated back thousands of years. The common belief that the swinging sixties brought about the invention of such items as the dildo, vibrator and butt plugs is nonsense.
The ancient Greeks were using olive oil as lube and experimenting with dildos as long ago as 1,000 B.C. Written in the 3rd century, the Kama Sutra includes a section on natural ways to enlarge your penis whilst Ben Wa balls were being used by Geishas around A.D. 500.
The vibrator is a relatively recent invention but has still been around since the mid nineteenth century; originally being used to treat women suffering from a nervous disposition, vibrators were used as part of a treatment (along with dildos) to cure 'hysteria'. Apparently inducing orgasm in a woman fell into the remit of doctors of the day as a way of stopping housewives from going mad. This laborious task was hard on the wrist and the invention of a steam-powered 'massager' was well-received (by the women as well as the doctors, no doubt).
Blow up dolls were first used in 1904 but became popular in the second world war when none other than Adolf Hitler authorized the issue of these 'hygienic' alternatives to French prostitutes to try and combat the spread of syphilis in the Nazi ranks.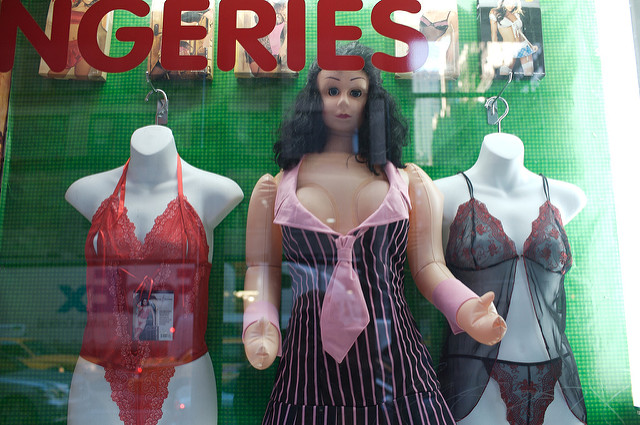 Penis rings from A.D. 1200, butt plugs from the 1890's and blow up dolls from the Edwardian age all pre-date the advent of the sex shop as we know it but nevertheless were being sold somewhere.
In the USA, sex shops were legalized in most states during the liberal 1960's with most cities permitting them only in certain zones (usually in the tolerated or controlled red-light districts). They continued to be a popular specialist kind of store throughout the 1970's with some establishments operating adult theaters and peep shows to extend their offering to customers. This practice began to decline in the 1980's and into the 1990's with the authorities closing such venues down, citing the spread of HIV/AIDS as the prime reason.
Until the 1990's sex stores predominantly catered for men but the growing trend of sexual liberation for women caused many shops to rethink their sales strategies. With women offering a new market, the rise of the more conservative and softer ranges began to hit the mainstream shopping malls.
Until this point, the back alley adult sex stores were identifiable by their dark, windowless exteriors and narrow doorways with shielded entrances. However, the change in marketing and more liberal regulations led to sex stores adopting a more open approach to their frontages. Stores like Anne Summers and Good Vibrations have both led the way in breaking new frontiers in how sex stores are perceived and received across both the USA and internationally.
Sex toys are now so 'run-of-the-mill' that even supermarkets stock items such as vibrators alongside condoms and lubes.
The laws on sex shops vary by state in the US and even within different cities. In Nevada (along with Georgia) it is illegal to buy sex toys under Section 8.14.040 (Sale of Sexual Paraphernalia). The adult stores that you can find in the state can sell lingerie and novelty items but the law prohibits anything that is designed 'primarily to stimulate the human genital organs'. And, yes, that is exactly how it is defined.
Online Sex Shops vs Retail Stores
There are two ways to buy sex toys; online or via a bricks and mortar store. There are pros and cons to both which we'll take a look at
Online Sex Shops
The major benefit of shopping for sex toys online is, of course, the ultimate discretion. No one, including the mailman, will ever need know what you have purchased nor even know you were buying from a sex store at all. Most online retailers send their products out in plain, brand-free packaging that is indiscernible from regular mail and even use discreet payment names when charging your card.
The other benefit to shopping online is the sheer variety and volume of products that you can browse. Whilst bricks and mortar stores are limited in the stock they can display the internet is an easy way to get a comprehensive picture of what is available.
Of course, shopping this way is also convenient. Travelling to a sex store cross town can take valuable time and, if they don't have what you are after, could end up being a wasted journey. With the internet, you can switch suppliers quickly without having to drive miles out of your way to do so.
Lastly, competition for your business online is fierce and retailers are always looking for ways to get you to part with your money with them before anyone else. As a result, you can often get the lowest prices as well as good deals with loyalty point schemes or cashback on your purchases.
On the down side, shopping online doesn't give you opportunity to handle a product and see it in the flesh. Quite often when using the internet for purchases you can find that what you have ordered isn't what you expected. Although most online retailers will accept returns (not on all products) this can be an inconvenience.
It's also not the most immediate ways to shop. Sometimes when you want something, you want it when you want it. Online orders usually take 3-5 working days to be delivered and this could be too late.
Retail Stores
The biggest advantage that retail stores have over online retailers is the immediacy of your purchase Quite simply, if you want to buy something without having to wait then a retail store is your best option.
Not only that but you also have the opportunity to actually see what it is that you are buying. Whilst some retailers use videos, high resolution photographs and customer reviews to help you make a decision there is nothing that beats looking at something in real life.
The other big advantage in going direct to a bricks and mortar store is being able to access the help of the sales staff. Again, online stores usually have a customer help line or chat facility but asking questions in person can really help you make your mind up.
Because of the extra overheads with running a shop, the prices at retail stores can often be more expensive than via the internet. It's not always the case and sometimes this can be a negligible cost.
Of course, shopping at a retail store also involves the inconvenience of travelling, actually having to go inside a sex shop (it's really not that bad) and having to get over the (initially, awkward) feeling of someone packaging up your dildo. But, if you can get past all that then you do get to play with your toys more quickly!
Lastly, like Nevada, some states do not allow the sale of sex toys so your choice can be more restricted, unlike the internet which has plenty of specialist products.
Dos and Don'ts Whilst Shopping in Sex Shops
Believe us when we say that staff who work in a sex shop have seen and heard it all and most are not afraid to share the horror stories of customers who get it wrong. We've done our research and gone to those in the know to get it straight from the horse's mouth; how to behave in a sex shop to avoid becoming a much talked about anecdote on the internet.
Don't be embarrassed or ashamed about visiting a sex shop
The days of sex shops being a part of some seedy 'underworld' are long gone and adult stores are now acknowledged (by most) as being part and parcel of a healthy sex life. There will always be those people who treat adult stores as something 'dirty' and regard those who shop there as 'unwholesome' but, hey, you can't please everyone. For the most part, it is how you act when entering and leaving an adult store that will determine the opinion of others. According to staff, if you walk in with your head held high and with purpose you are far less likely to draw attention to yourself than if you skulk around for twenty minutes beforehand waiting for the coast to be clear. Likewise, leave a store with the same unabashed demeanor. Pulling your coat tightly about your person to conceal a brown paper bag will make people wonder exactly what you've bought to be so ashamed of!
It's okay to have a laugh… .but don't visit a sex shop just for a laugh
Sex shops aren't libraries or places of worship and for some, there is a temptation to speak in hushed tones or stifle a fit of the giggles. You don't need to do that, the staff know exactly what is funny about some of the products they are selling and really don't mind people who browse finding something funny. However, you do need to be sensitive to the fact that there are others in a store who may be trying to buy something discreet. By laughing over excitedly and ridiculing a product you could be losing the store a sale and they wont appreciate that.
By all means, visit a sex shop to have a browse and be yourself but don't mock others or simply drop in for pure entertainment value.
Respect the staff (particularly female staff)
Everyone has the right to work in an environment that is free from harassment and staff in sex shops are no different. Respect that they are there to do a job which is primarily to help you make the best choice in your purchase. One of the biggest complaints and horrendous anecdotes from sex store workers is being asked inappropriate questions by customers or being subjected to verbal harassment. The etiquette is simple; if you wouldn't say something to a cashier in Kroger then don't say it to a sex store cashier.
Do ask for help but don't ask for sexual services.
Feel free to ask questions
Which brings us onto the next point. There's no need to feel shy around the staff, they are there to help. They may ask you if you would like help and you shouldn't be embarrassed; after all, you are likely to be paying a small premium by buying in store instead of online so it's worth getting some advice from someone who knows.
Do your research before you arrive
Having said that, if you are looking for something specific then it's worth doing some research before you arrive. Staff will always be more than happy to help and to answer your questions but if you are starting from a place of no knowledge of what you are looking for then it may be that they won't have the time to dedicate an hour being your personal shopper. There are stories of sales staff who know that people have made an unwise choice simply because they were either too embarrassed to ask for help or felt uncomfortable asking the right questions. If you can do your own research before you leave the house then you will also know whether you are getting a good deal.
Dragging an unsuspecting partner into a sex shop is a no-no
It seems that many of us think that taking our partners into a sex shop is a good thing. We wouldn't disagree and nor would those in the know. Where that plan seems to fall down is if your partner isn't expecting to be taken to a sex shop or hasn't quite got round the idea of doing it. There are plenty of stories online from anonymous sex shop workers reporting tales of 'deer caught in headlights' or 'marital arguments in angry whispers' because of this. The most common anecdote is of men surprising their significant other with butt play toys…the shocked faces usually indicates that this has not been suggested before.
If you are taking your partner along with you then make sure that both of you have explored what it is you are both looking for.
Accept that the prices are higher for a reason
Another big bug bear is customers who complain that the prices are higher than they have seen online. As we've discussed in the previous section, there is good reason for that. Don't keep pointing that out and just accept that you can sometimes expect to pay a little more to get your product when you want it and be able to see it in the flesh before purchase. All that being said, there is no reason why, if you are buying a few items (particularly expensive ones), you shouldn't ask for a discount.
Shopping Tips
And lastly, we come to some tips to remember when you are shopping for sex toys.
Remember that certain products cannot be returned for reasons of hygiene so once you buy it, it's yours. For that reason, you should be confident that you are buying the right item in the right size, shape and color as refunds can't be made once the packaging has been opened.
Always remember to make sure you have the right size and quantity of batteries (where applicable). There really is nothing more guaranteed to break the mood than if you have to go emptying the TV remote control to power up your new cock ring.
If you really want to avoid any detection, then always make sure that the company you are purchasing from bills your card discreetly and uses plain packaging. If you are buying at a retail store, then look for ones that are out of town and have a frontage that doesn't face a busy road.
Finally, when going to a retail store always have a rough idea in mind of what you want along with a realistic budget.
Don't be tempted to spend more just because you can't face another schlep across town to another store.
Ask if the store does a price match service if you have seen the product cheaper elsewhere but bear in mind that these do not relate to internet only prices.